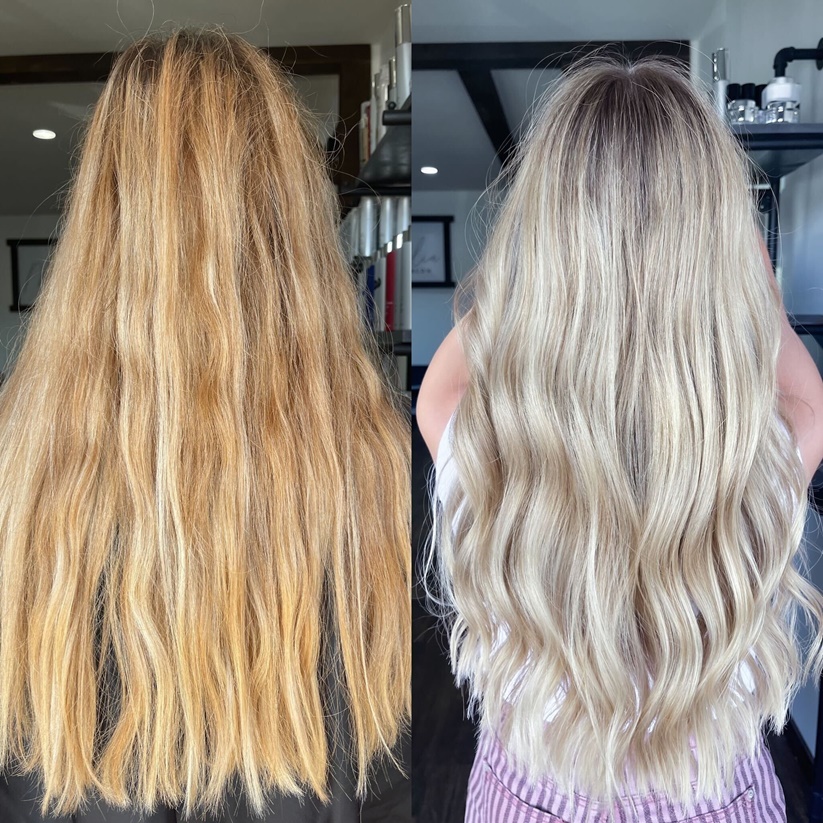 Adding brightness and dimension to hair color will never go out of style, but stylists are always looking for new ways to change things up for their guests. This high-impact application and technique provides a way to retouch lived-in looks or quickly add dimension to virtually any look. The idea is to create a look that provides maximum impact using 20 foils or less, giving stylists the ability to create a "lived-in" look that is versatile, quick, and easy to apply. This application involves using pivoting foils to create areas of concentrated brightness and depth, making it ideal for maintaining brightness around the face and depth toward the crown/nape.

PRODUCTS USED:
Simply Blonde Beyond Bond Lightener
20-Volume Developer
9GG Demi-Permanent
Beige Rapid Toner
9-Volume Activator
Kenra Platinum Restorative Shampoo
Kenra Platinum Restorative Conditioner
Porosity Equalizing Spray
Rapid Hydration Mask: Light

Create five sections. Part from ear to ear, and clip entire back section away. Part from the center back to the front hairline. From that center, make an additional parting along the parietal ridge of each side, from the back section to the recession. Once that is complete, there should be four rectangular sections in the front and one large section in the back.
Starting on either side, create diagonal back babylights at the hairline using Simply Blonde Beyond Bond Lightener with 20-volume. Then, do two additional foils from the first one in a pivoting pattern, decreasing the diagonal back angle with each foil. Skipping ¼- ½ inch, place one more foil mimicking the same angle as the foil prior. We will repeat this process on the other side.



In the top two sections, line the hairline with back-to-back baby lights placing the foils diagonal back to create two sides of a triangle. Use a slice to complete the triangle with maximum impact.



Use the center of the slice as a guideline to create the pivoting foils behind it. In the center foil, take hair from each side of the part line, weave, and backcomb the section. Apply lightener. This will create softness and diffusion on the part line. Pivot three foils on either side using the center of the slice as your starting point alternating weaves and skip slices for added brightness and dimension.



After processing and shampooing with Kenra Platinum Restorative Shampoo, tone using the Kenra Color demi-permanent color that fits the needs of the client. In this example, 1oz 9GG plus 0.25oz Beige Rapid Toner was used with 9-Volume Activator at a 1:2 mixing ratio. For added consistency and longevity, use Porosity Equalizing Spray prior to applying to ensure color.
Now that the time-saving color application has been completed, shampoo and then condition with Rapid Hydration Mask: Light or Rich depending on the hair type of the client. This rapid, three-minute deep conditioning treatment is formulated with sustainably sourced babassu oil and is the perfect add-on service that works in a fraction of the time of traditional treatments. Now, clients can look and feel their best and be out the door faster than before while giving the stylist additional time back in their day as well. It's a rapid win-win for everyone.



About Expert
Kenra Professional
Haircolor
Discover expert advice from Kenra and the industry's most trusted artists and educators. Whether it's the latest, on-trend techniques or tips that will boost your business, they're here to make sure you reach your full potential!
up next
How-To: Finger Coil Technique For Defined Natural Curls
How-To: Finger Coil Technique For Defined Natural Curls
Written by 
Kenra Professional Education Team
Oct 1, 2022
Read time 5 min