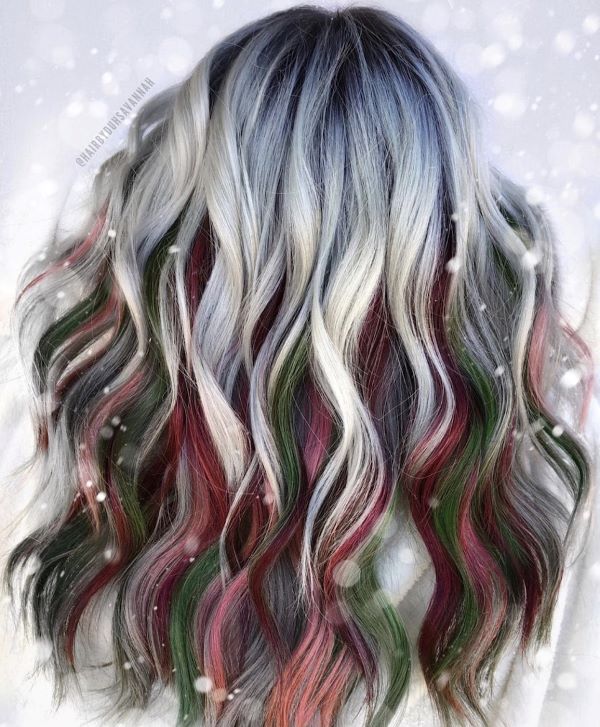 Source: Courtesy of Savannah Laney (@hairbyduhsavannah)
It Takes A Pro Team Artist Savannah Laney (@hairbyduhsavannah) created this look on her platinum and creative color client, typically leaving her top halo section blonde and applying creative colors underneath. On the day of her appointment, Savannah lifted her client's regrowth with PulpRiot BlondeAF 20-Volume and b3 for 30 minutes.
Step-by-Step
Apply PulpRiot Blank Canvas 6-Volume on leftover creative colors at the bowl.

Mix PulpRiot Interstellar 12-11 with Rapid Toners Silver/Icy 6-Volume in equal parts for the root area and leave on for 20 minutes.

Tone remaining blonde sections with PulpRiot Belfast conditioner.

For creative Christmas colors, apply in a horseshoe-halo sectioning pattern using the following formulas:

Make sure to leave your guest's blonde clipped up while rinsing in very cold water.

Use a good thermal protectant and leave-in conditioner for styling.
Products Used
Pro Tip
Have your guest return to you for their first wash to ensure no color transfer, or ask your client to part their blonde off from their creative colors when shampooing for the first time at home.
About Expert

Discover expert advice from SalonCentric and the industry's most trusted artists and educators. Whether it's the latest, on-trend techniques or tips that will boost your business, they're here to make sure you reach your full potential!
up next
One Last Thing With Brea Retic

One Last Thing With Brea Retic
Written by 
SalonCentric Team
Nov 17, 2023
Read time 5 min