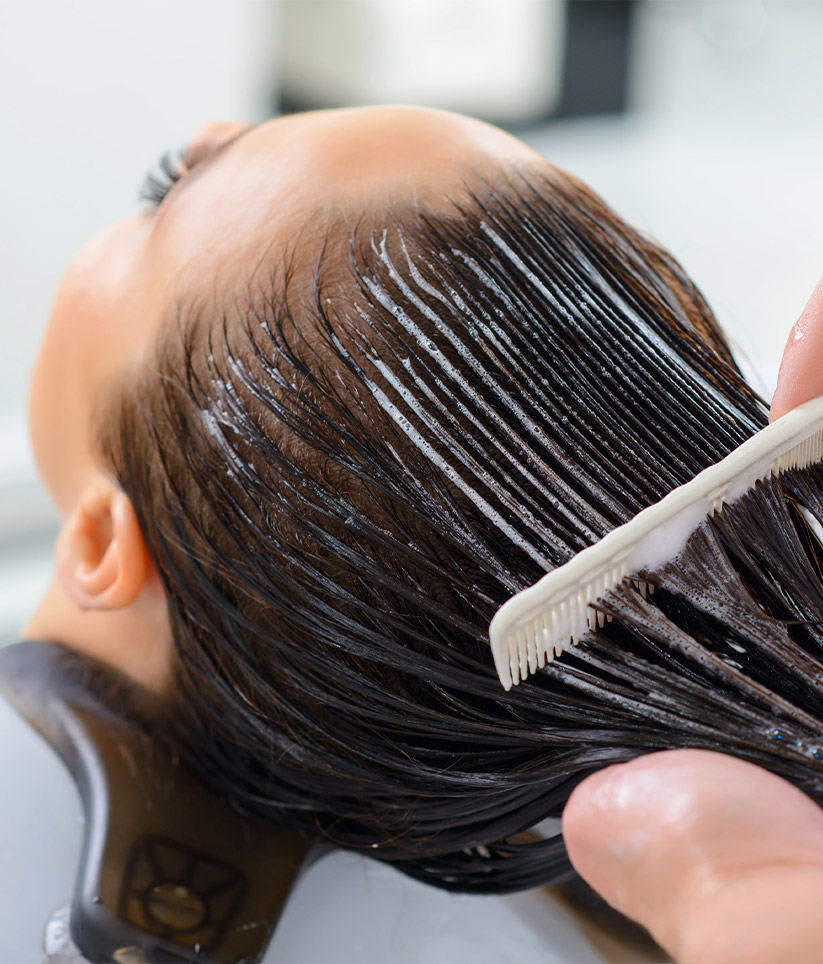 Source: Courtesy of Viviscal
These days, it seems like everyone in the hair industry is talking about keratin. According to some hair experts, this protein can completely change the look and feel of your clients' hair, especially if your clients are experiencing damaged or thinning locks. But before you start adding keratin treatments to your services, it's important to understand how keratin works. Keep reading to learn more about keratin and how you can use keratin fibers like Xfusion by Toppik to instantly transform the appearance of your clients' hair.

What Keratin Is
Keratin is a natural protein found in our bodies and is a major component in the structure of hair. In fact, 65 to 95 percent of hair is made from keratin. It's also an important structural factor in skin and nails. This vital protein is synthesized from amino acids, which come from protein in the food we eat. This is why a protein-deficient diet can result in dry hair, lackluster skin, and brittle nails. However, hair can lose its essential structural keratin through heat styling and over-processing as well. This can leave hair dry, brittle, and prone to breakage. Of course most clients are not willing to swear off blow-drying and hair color forever. For this reason, there are many products and treatments available to help hairstylists replenish hair with keratin, leaving it stronger and healthier.

3 Ways To Offer Keratin To Your Clients
Keratin is an excellent ingredient for improving the appearance of hair that is fine, thin, damaged, or frizzy. Here are the top ways to use keratin:
1. Keratin Hair Fibers
XFusion Keratin Hair Fibers are an exclusive, professional-only product designed to make fine, thin, or thinning hair look instantly fuller. The organic colored fibers are made from pure keratin—the same fiber rel="noopener noreferrer" that hair is made of. XFusion Hair Fibers have an electromagnetic charge and cling to existing hair, making it look thicker and fuller. But the best part is that they're completely undetectable,even from just two inches away. And since XFusion resists wind, rain, and perspiration, the results will last all day. This product offers dramatic results that your clients will love. XFusion Fibers are also very simple to apply, so it's an easy up sell for both men and women. A great quick fix for sure, but they do not add keratin back into the hair. So while the results are dramatic and impressive, remember that they're also temporary.

2. Salon Keratin Treatments
If your client is looking for endurance, then the most effective way to add keratin back into the hair is through a salon keratin treatment. Salon keratin treatments promise smoother hair for up to 12 weeks.They're a specialized treatment and require further education before adding them to your services. Before you seek out classes, it's important to know that this keratin treatment sometimes involves the use of formaldehyde, a chemical that's known to cause cancer. While salon keratin treatments can offer impressive results for your clients, you must be extra careful when providing this treatment and consider whether the rewards are worth the risk.

3. Keratin-Infused Hair Products
While not as effective as a Brazilian Blowout, keratin-infused hair products can help add vital proteins back into the hair shaft for stronger, healthier hair. They're also safer and a more wallet-friendly option for most clients. Consider offering a keratin-infused deep conditioning treatment or suggesting a collection of shampoos, conditioners, and styling products that offer keratin as a star rel="noopener noreferrer" ingredient.
For more information, check out http://www.keratin.com/aa/aa012.shtml