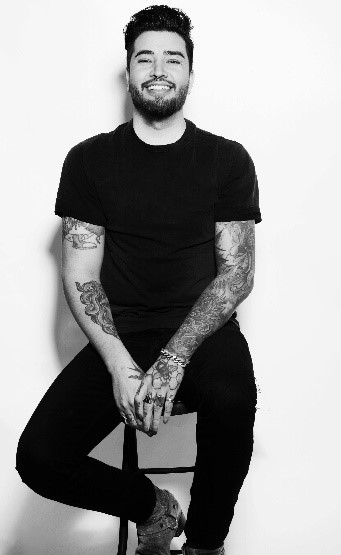 Source: Photos Courtesy of Daniel Mora
Meet SalonCentric #ItTakesAProTeam Artist and Redken Ambassador, Daniel Mora (@danielmbeauty). He's one of the leading colorists in the biz, best known for creating stunning blondes and brunettes. Daniel's also not too shabby at color correcting and extensions. In fact, he's so good at both, you can add them to the list of the many reasons he's had such a successful career.
Native to both Michoacán, Mexico and Tustin, CA, Daniel resides in California when he isn't traveling the country educating fellow colorists. Not every educator is willing to give up their secret sauce, but Daniel has no problem sharing his formulas and expertise with fellow pros and he's happy to do it. His love for teaching others on how to follow in his footsteps as a colorist is one of the reasons he believes that he's had such a successful career. Speaking of, in October, Daniel will reach a very well-deserved career milestone when he opens his first salon, Onyx on Madison in Pasadena, with business partner Chaie De Jesus.
We wanted to learn more about Mora's career as a colorist, but also whether or not he prefers to color blondes or brunettes, his signature walk-out song and his favorite out-of-context quote. Here's a hint: #freebritney. Plus, he shares why he won't let just anyone in his chair go from brunette to blonde, and explains why he sometimes has to say 'no' to clients
SC: How did you go from stylist to industry-respected influencer and blonde/brunette specialist?
Daniel Mora: To be completely honest, it all happened super organically. I never planned to become an influencer. Where it all really changed for me was when I began sharing my knowledge, and became selfless when sharing my formulas and techniques with my audience. It led me to grow my following organically and authentically. That catapulted my career and was how I became an international educator. Once I started touring and educating stylists from allover and all walks of life, that elevated my career even more.
SC: Which do you prefer: coloring blonde or brunettes?
DM: That's a tough one. I've definitely become known for turning brunettes into dimensional, low maintenance blondes, so, I'd say I'm right in the middle. I'm definitely a stylist that says no to blondes a lot. Not because I don't like it, but you have to have the right hair type and condition to be a blonde. I don't want make clients blonde just for the sake of making money.

SC: If you have a brunette client who comes in wanting to be platinum blonde, but you think it's the absolute wrong move, what do you say to them?
DM:I SAY, 'NOOOOOO!' I can't stress it enough: Learning how to say no will save you a lot of headaches.

SC: What product or tool do you use the most on clients?
DM:I am all about maintaining the integrity of the hair as much as possible so my favorite products to achieve that with is Redken Bonder Inside as it leaves the integrity of hair a lot healthier than other lighteners. Then, I follow with Shades EQ Gloss because its acidic formula allows me to further maintain the integrity of the hair. It closes the cuticle making hair shiny And to finalize the color service, I am BEYOND OBSESSED with the new Redken Acidic Bonding Concentrate trio. IF YOU HAVEN'T TRIED IT, YOU MUST.
As far as styling, I love using my handy black gold marcel from Hot Tools. It does the job amazingly and easy.
SC: If you could switch any celebrity's hair from blonde to brunette (or vice versa), who would it be and why?
DM: OMG I hope people don't hate me for this one, but I would turn Selena Gomez's hair to brunette. It's one of those cases where blonde just washes her out too much. When she is brunette or a super rich color, it just makes her look more healthy and alive.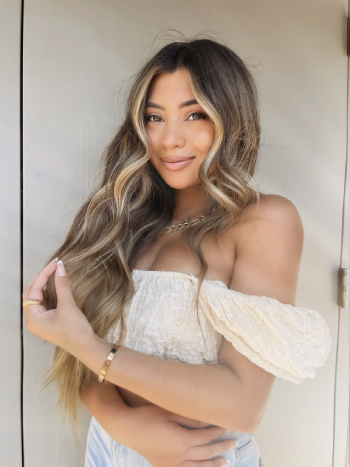 SC: What's your next personal or professional goal?

DM: I am so happy to announce I am about to open up a beautiful, upscale salon in the city of Pasadena, CA alongside my business partner Chaie De Jesus. We hope to be open by the end of October. It's something we have been working on through quarantine. It was scary, but we are so happy it's finally happening. The name of the salon is 'ONYX ON MADISON.' You can start following our journey on Instagram at @onyxonmadison.

SC: Do you have any cool party tricks?
DM: Talk to people at the party. You never know who you may end up meeting.
SC: What would be your walk out song every time you enter a room?
DM: Queen-'Don't Stop Me Now'!!!
SC: Favorite out-of-context quote?
DM: 'It's Britney, bitch' by Britney Spears.

SC: What's the last thing you saw, heard, or read that made you laugh?
DM: I have a thick accent. I asked my assistant to pass me the 'foils' multiple times, and she ignored me. She thought I was saying 'pollos'—which is Spanish for chickens. She said, 'What do you mean pollos?' I started laughing so hard.
About Expert
Discover expert advice from SalonCentric and the industry's most trusted artists and educators. Whether it's the latest, on-trend techniques or tips that will boost your business, they're here to make sure you reach your full potential!