Here's a quick cutting tutorial from Biolage Ambassador, Rolando Aqui, on how to create nice, soft, effortless layers using easy point cutting and stroke cutting techniques. Support the look with your desired Biolage products, including the Strength Recovery Repairing Spray as a cutting lotion and the All in One Oil as your blow dry go to.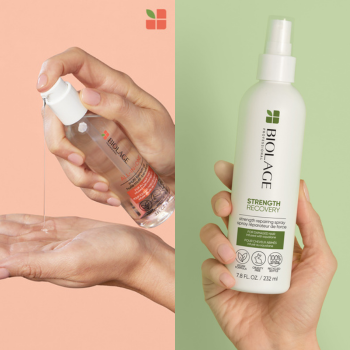 Step-By-Step:
1. Shampoo and Condition with your favorite Biolage products. Here we recommend our new Strength Recovery Shampoo and Strength Recovery Conditioning Cream. Spray in the Strength Recover Strength Repairing Spray and leave in while cutting.
2. Starting with the left side of the head, take the entire section and comb straight up. Select your desired guide. Cut the hair at a 45-degree angle toward the face using your guide.
3. Repeat on the right side.
4. Blow dry the hair with a paddle brush and then flat iron if needed for additional smoothness.
5. Split the right side into 2 horizontal sections then take the first section straight up off the head and point cut or stroking technique to add in soft texture. Do this for the second bottom horizontal section as well.
6. Replicate on the left side the same technique used for the right.
7. Work through the top horseshoe of the head and remove any weight desired.
8. Continue to personalize the haircut by working around the top of the head and point cutting or stroking to remove weight and add soft texture.
9. You can finish by using your shears flat against the hair and remove any fly-aways.
10. Using the desired styling product such as Complete Control Hairspray or All in One Oil will help complete the look for effortless layers.