Dry hair can be a big concern for clients with damaged hair, because the dehydrated strands tend to look dull, lifeless, and frizzy. And worst of all, hair that is dehydrated is vulnerable to damage, including breakage and split ends. Here are Biolage's dry hair must-haves for every client's dry hair concern.
Biolage Hydra Source
Biolage's Hydra Source lineup has been many stylists' go-to products, as they truly works on dry and medium to fine hair. Hydra Source Shampoo, Detangling Solution and Conditioning Balm are the daily workhorses, leaving hair soft and manageable. For extra hydration muscle, there's Hydra Source Mask, recommended for use once or twice a week in place of the Conditioning Balm, and Hydra Source Deep Treatment Pack to provide hair with three times more moisture. And with the Hydra Source family, the treatment goes on all day, thanks to the Hydra Source leave-ins: Hydra Source Daily Leave-In Tonic and Daily Leave-In Cream. These formulas seal split ends, align the cuticle and protect hair from environmental damage.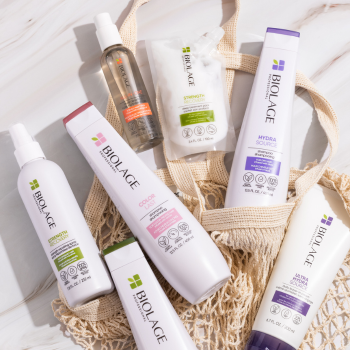 Biolage Ultra Hydra Source
Typically, it's clients with very thick, coarse hair that suffer the most from dry hair. The structure of thick hair types makes it very dry, especially when adding chemical services and thermal styling. To combat this dryness, stylists can use Biolage's Ultra Hydra Source, which includes Ultra Hydra Source Shampoo, Conditioning Balm, and a Deep Treatment Hydration Pak. These products are formulated with aloe leaf juice, cupuacu butter, and apricot kernel oil, which intensely hydrate the hair for a smooth finish.
Biolage Multi-Benefit Oil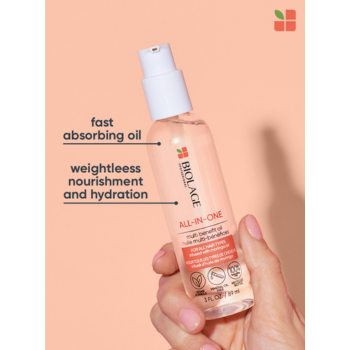 This versatile product has a lightweight, fast-absorbing formula with massive amounts of shine, softness, control and manageability. Not only can its multi-beneficial formula be applied to damp hair before styling to protect from heat, but also to dry hair after styling to seal in shine throughout the day, and manage frizz overnight as a deep treatment.
Multi-Benefit Oil is vegan, cruelty free and like all Biolage products, the bottle is 100 percent recycled.