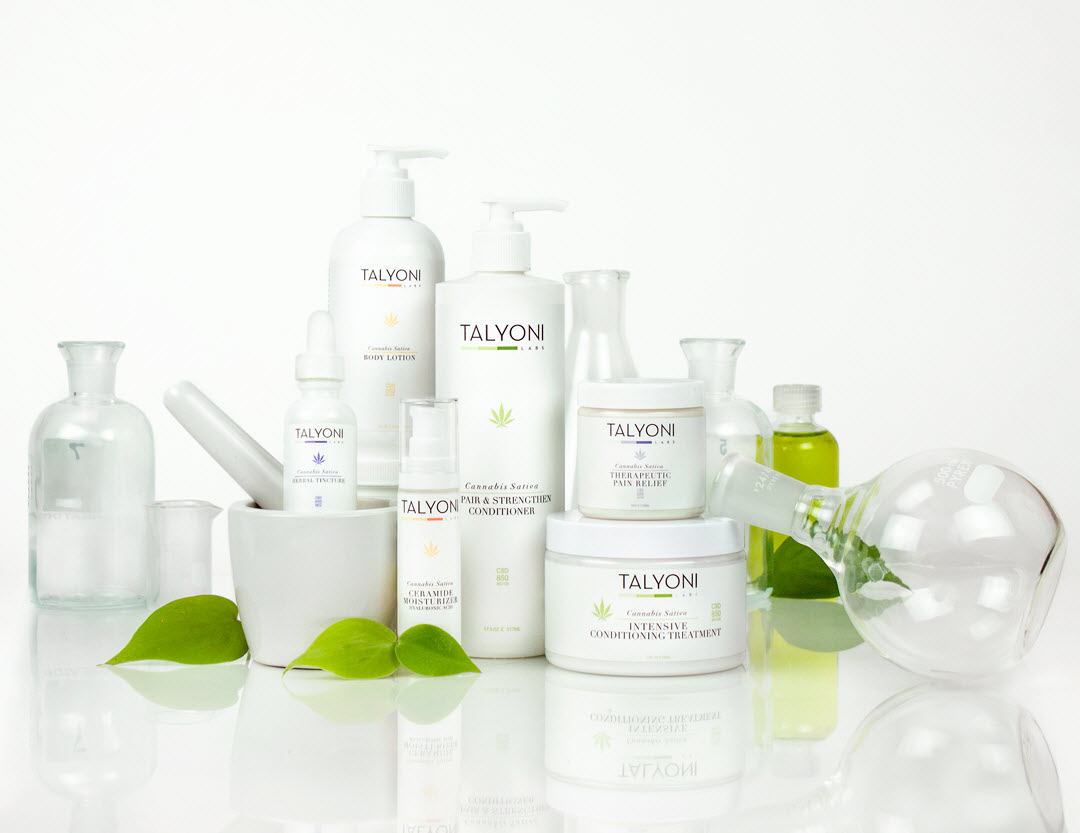 These days it seems like CBD is everywhere from the health food store to the coffee shop and even to your best friend's bathroom counter. And it's also making its way into the salon in the form of hair care, skin care and wellness products. Naturally, you have questions, and fortunately, Talia Tiram, business development manager for
Talyoni
Labs—makers of a new cannabis sativa collection for hair, skin and wellness—has answers.
What is CBD anyway?
Tiram: CBD is short for cannabidiol, which we derive from the seeds of the hemp plant. Hemp, by the way, recently became legal in the U.S.
Will it make you high?
Tiram: Hemp-derived cannabidiol is non-psychotropic. It's different from tetrahydrocannabinol or THC, which is the primary psychoactive component of the cannabis plant. CBD does not contain THC, so it will not cause you to get high.
Why use hemp-derived CBD in beauty products?
Tiram: CBD provides a wealth of health and beauty benefits. It's rich in amino acids, omega and fatty acids, essential vitamins, minerals and proteins. It serves as a moisturizer, an anti-oxidant and an anti-inflammatory all at the same time. These properties make CBD a "wonder ingredient" for hair, skin, wellness and pain management.
What are some specific ways CBD benefits hair?
Talia: So many ways! It can prevent breakage and split ends. The amino acids help produce fuller, thicker hair by building up natural collagen and elastin. Fatty acids moisturize dry hair. Its anti-inflammatory properties make it ideal for scalp treatments. We find that it's often used for clients with eczema, dandruff, dryness, flaking and itchiness—healthy hair starts with a healthy scalp after all. When mixed with other wonderful ingredients and targeted for specific hair concerns, there's really something for everyone.
O
t
her than hair care, how can salons offer CBD products and treatments to their clients?
Talia: We're seeing salons offer neck and scalp massages with CBD oil. I personally enjoy regular massages with a CBD pain relief cream. I feel results immediately. Salons can offer hand or neck massages using the cream for clients who may have conditions like arthritis in their hands. CBD really bridges the wellness and beauty categories. These in-salon treatments are a great way to start the conversation about CBD.
What type of clients are interested in CBD products?
Talia: It's a funny thing. We're finding the interest in CBD spans generations. My mom gets excited about CBD because for her generation it was never legal. She's interested in now having access to these ingredients. For the younger generation, it syncs up with their desire for clarity about the ingredients they choose to use. They want to know what's in their products and how it will help them. They're also interested in ingredients that offer beauty benefits as well as total body wellness. CBD products offer a total body approach to hair care.

Any tips for promoting or marketing CBD products?
Talia: Offering CBD products and treatments can really set salons apart right now. They're legal and available and they give salons another layer of luxury to offer. I would stress all that as well as the fact that it's an approach to total body wellness. We're seeing users share success stories on social media and that's powerful. And definitely work these products into your treatments and offer them as add-ons. The results are immediate in many cases, and once the client experiences a scalp or hand massage upgraded with a CBD product, they'll want to take it home.
Based on the signing of the 2018 Farm Bill by President Trump, it is legal to purchase and consume hemp-derived CBD in all 50 states. SalonCentric carries CBD products, including skin and hair care products.
Photography: Courtesy of Talyoni Labs