BeauTex introduces an innovative line of sustainable fashion workwear with a debut collection co-designed by hair industry icon Tabatha Coffey. This new collection takes a powerful step forward in fighting the leading environmental and ethical issues produced by the fashion industry.
By turning plastic waste into workwear, BeauTex offers a first-of-its-kind sustainable textile solution by sourcing raw materials, improving garment construction, and bringing transparency to the supply chain. At a time when many businesses are turning a blind eye to the pollution, environmental damage, and social exploitation created by the fashion industry—which emits 1.7 billion tons of CO2 per year with about two-thirds of the world's clothing coming from fossil fuel synthetics such as polyester—BeauTex's mission is clear. By creating its own brand of sustainable and ethical workwear, it also seeks to help other companies make the transition to cleaner manufacturing practices like switching to waterless drying to reduce water usage, using OEKO-TEX approved dyes that are environmentally-friendly without contributing to toxic run-off, reducing carbon offsets by dispatching directly from their manufacturers offshore, and switching their packaging to re-usable, biodegradable cotton tote bags.
Look Good, Feel Good
Instead of sourcing virgin polyesters that are used in typical workwear, BeauTex's unique fabric uses RPET recycled plastic water bottles that would have otherwise ended up in landfills. They're flaked, pelletized, extruded into yarn and then woven into a textile. This innovative fabric is not only bleach-, dye- and fade-resistant, but also contains a four-way stretch for every single piece. "in the past, we had four different textile combinations. But we've perfected it to the one x four-way stretch fabric which is crease-free, and has cooling technology incorporated to help with all-day wear and staying cool while using hot tools in the salon environment," says BeauTex CEO Brooke Jones. "It's also undergone anti-pilling testing and snag testing, adding to the durability factor that's so important in making workwear last as long as possible. Plus, it's got such a cool feel to it, we've been able to create a fabric that's not only sustainable and very practical, but it also feels so good to wear and looks really elevated."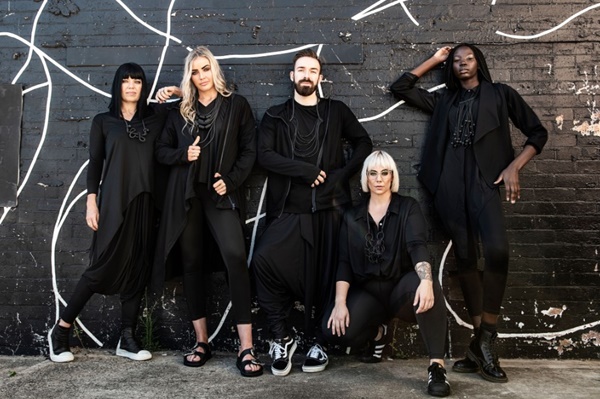 Playing Favorites
Like any parent asked who their favorite child is, Jones and Coffey are hard pressed to come up with just one fave from the Tabatha by BeauTex collection. Here, each gives up the goods, sharing their top three.
Tabatha Coffey: "It's hard to only pick three! The Collared Button Up Blouse is fantastic because you can wear it several different ways which makes it so incredibly versatile. I also love the Longline Zipper Front Hoodie. It is so great for traveling, running errands, but also light enough that I can work in it. And my other favorite is the Harem Yoga Pant. They are so comfy, another of my favorite travel pieces. They are also really versatile, I wear them with sneakers, booties, a pair of heels and a jacket, and they look fabulous and dressed up."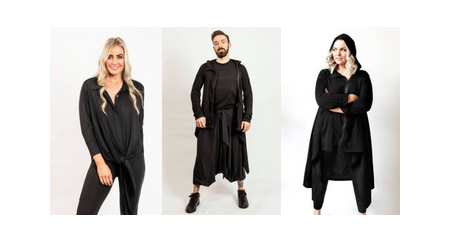 Brooke Jones: "Definitely the Compression Jeggings, the Longline Zipper Front Hoodie and the Collared Button Up Blouse. The jeggings can be worn with either the hoodie or the blouse on their own, or you can layer all three pieces together for a great winter outfit."
Profit For Purpose
Not only is BeauTex environmentally, ethically and socially minded its production efforts, the brand is also philanthropically driven in actively supporting organizations like Prasad Kitchen, Food Bank Co, Rice for Bali, HAIRAID, and Mantua Sewing School. Preparing 515 cooked food meals or dedicating an entire order towards the purchase and delivery of 500kgs of rice to families who live on the edge of the landfills, is typical of the kind of positive impact BeauTex is trying to effect. "As a business owner, I have a responsibility to give back and make sure our profit for purpose model is positioned to support people and the planet," says Jones. "Every order and every partnership allows us to better the process, support more organizations and non-profits, and divert more waste from landfills and oceans saving emissions which in turn create more of an impact in raising the standards for better manufacturing practices."
BeauTex is living proof that policies alone don't create change, people's actions make the change.
About Expert
Discover expert advice from SalonCentric and the industry's most trusted artists and educators. Whether it's the latest, on-trend techniques or tips that will boost your business, they're here to make sure you reach your full potential!
up next
Hair Stories Episode 6: Multicultural Hair Care For Kids
Hair Stories Episode 6: Multicultural Hair Care For Kids
Written by 
SalonCentric Team
Sep 16, 2023
Read time  min