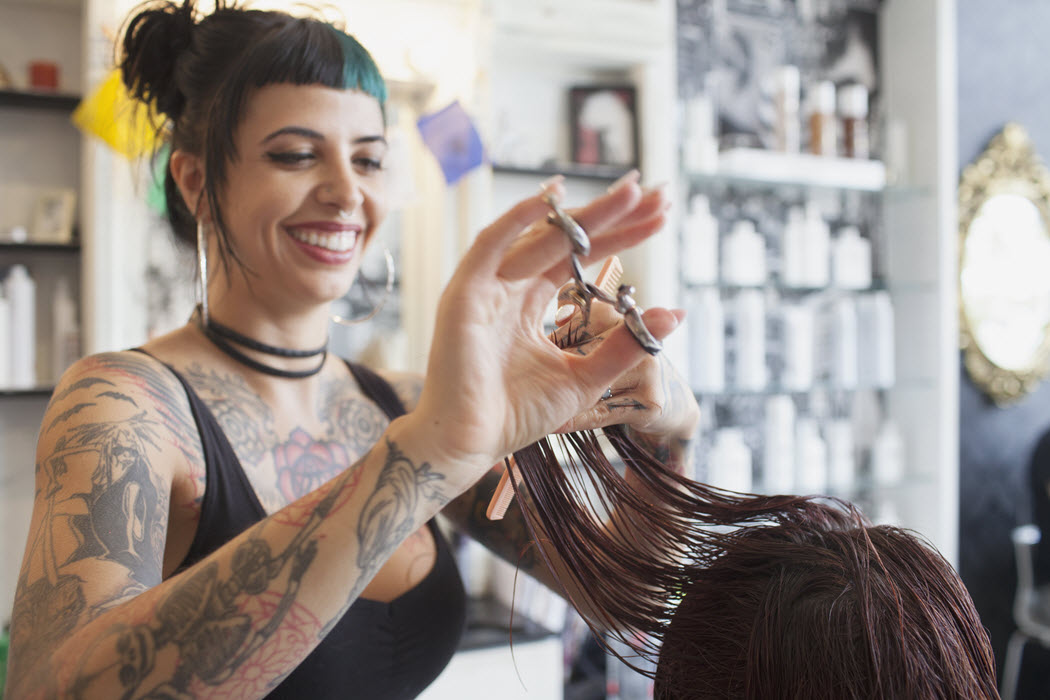 New clients? Silver. The clients you already have? Solid gold, baby! Salon experts know it's much easier, cheaper and better for business to keep existing clients than to constantly be on the hunt for new customers. Here are four secrets to client retention that will keep your business strong day in and day out.
Rebooking
If you do absolutely nothing else to retain clients, make client rebooking a top priority. Salon owners and stylists agree this is the number one secret to ensuring clients come back. If a client books her next appointment before leaving the salon, the odds of her returning skyrocket. There are many great pre-booking strategies, including this one by Aria Salon Spa Shoppes in Alpharetta and Cumming, GA: The staff posts cards on their mirrors that allow clients to see at a glance which dates are four weeks out, five weeks out, and so on. On the first day of each week, they update the date timelines. When a stylist tells her client she'd like for her to return in four weeks, the client can easily check to see which day of the week fits her schedule, making rebooking a breeze.

Client Loyalty Programs
Client loyalty programs do just that—they generate loyalty to you and to your salon. The airlines are masters of the client loyalty program. The more you fly with American or United, the more perks you receive, like upgrades, early boarding and free luggage check. In keeping with the travel theme, Aria Owners Mechelle and Matthew Khodayari created a client passport. This passport offers new guests four options to save on their next four visits: $20 off the next color service; $20 off the next haircut; a free deep conditioning service or $20 off a blowout. Their retention rate increased 12 percent after launching this program.

Provide Unforgettable Experiences and Deliver Consistency
Giving your client a great haircut is an excellent reason for her to return to your chair. Giving your client a great service and an unforgettable experience clinches the deal. Whether your salon vibe is relaxing and pampering or energetic and fun, be sure you deliver memorably and consistently. Celebrity stylist Julius Michaels is often on the set with his Real Housewives clients. Meanwhile, back at his Julius Michaels Scarsdale Salon, his partner, Monica Wald, capitalizes on the celebrity connection and treats every client like a star. The shampoo chairs double as massage chairs, and every client is offered a massage at the backbar. The salon tempts guests with cappuccinos and cookies. Monica uses product samples to put together seasonal gift bags for occasions like Mother's Day and Valentine's Day. Day after day, she's always on the lookout for new ways to pamper and delight her guests. According to her, every client, on every visit, must be gifted with a unique, luxurious and memorable experience.

Stay Connected…with Your Thumbs
According to a top global management consulting company, 60-80 percent of customers who describe themselves as satisfied still do not go back to do more business with the company that satisfied them. Wait, what now? The issue isn't satisfaction, say the experts; the reason clients don't return is often due to a lack of connection. If clients don't have an emotional reason to return, they may not do so, even if they were happy with your work. A modern, easy way to stay connected with clients is to use the same method you use to stay in touch with your mom, your kids and your friends—via text. People read their texts, texts don't cost money and they provide you with a means of personal, one-to-one communication. A few tips: don't try to sell anything, simply text a note of greeting; check in to see if you can be of service or answer a question; express gratitude for your client's business and friendship. Connect with your customers on an emotional level, they're unlikely to go anywhere else.
Photo Credit: Getty Images