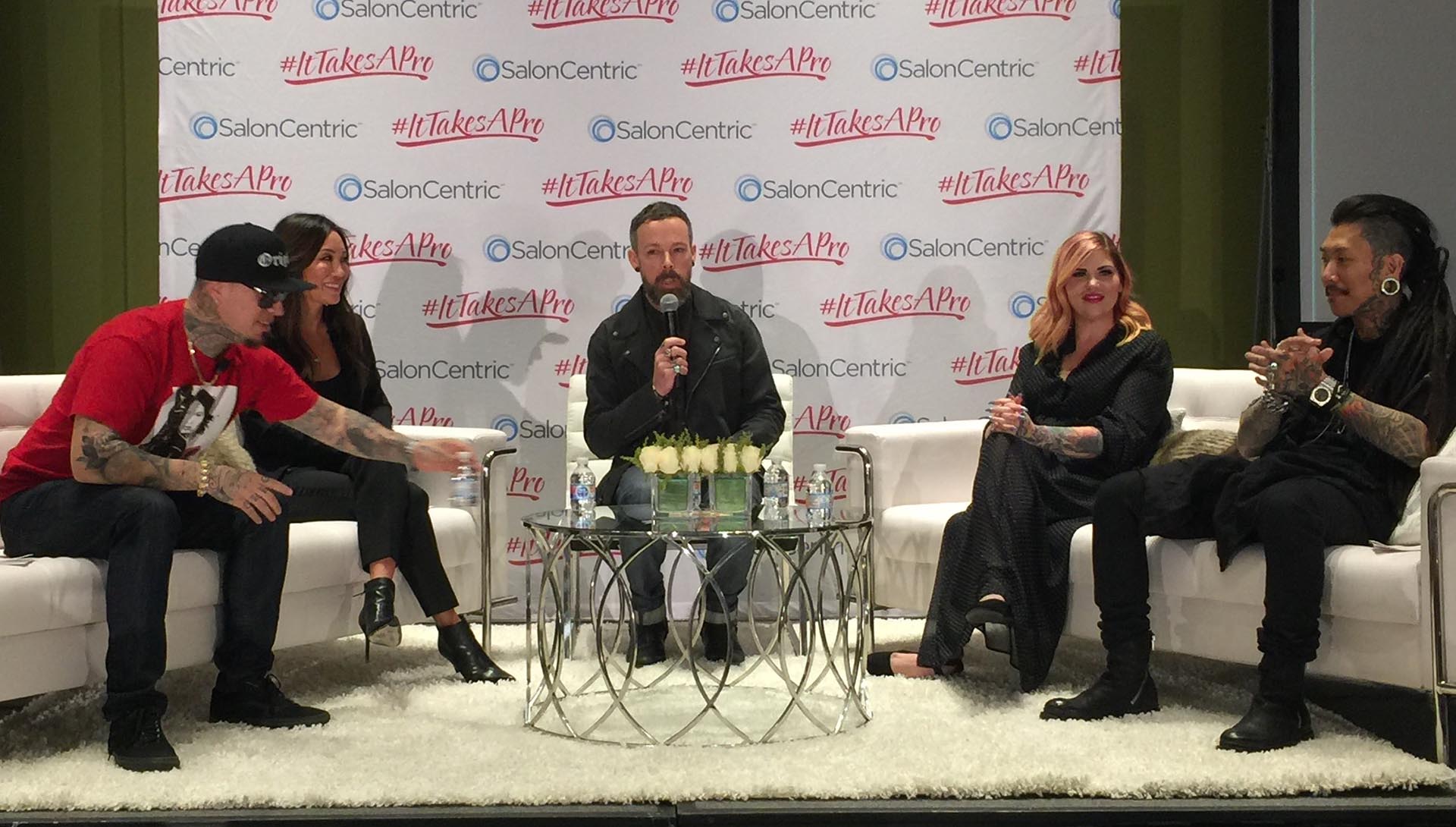 What happens when Rebecca Taylor,
@rebeccataylorhair
; Philip Wolff,
@philipwolffhair
; Min Kim,
@minkimcolorist
; Rob Ferrell,
@robtheoriginal
and Andrew Carruthers,
@andrew.carruthers
come together for a panel discussion on social media? They drop major knowledge! The world of social media changes at lightning speed, and at the first SalonCentric #ItTakesAPro panel at ABS recently, these five came together to share insights into the medium that helped put them on the map. Here are nine "light bulb moment" takeaways from that session.
Embrace the Change
"Social media has brought about the biggest change in beauty ever," says Rebecca. "Thanks to social you can show your work wherever you are in the world. You can brand yourself, brand your salon, become an educator, create products. There has never been anything like it and people who embrace it really benefit."

Growing by Doing
"On social media, you grow by interacting with your followers," says Rob. "Answer all direct messages, respond to comments and just keep posting more content."
New Measurables
"Instagram has gone beyond the number of likes or followers you have," says Rebecca. "Now it's about value and engagement so it's important to understand those metrics."

Feed vs. Stories
"I explain it this way," says Min. "Your Instagram wall is your portfolio. It's where you show your work. Your Instagram stories are insights into your life. They show people how you live."

Focus on the Positive
"There will always be negative people and negative feedback on social media," says Rebecca. "I recommend keeping your focus on the positive. Don't give any of your energy to the negative."
Keep in Mind Clarity Comes
"I didn't start out intending to be an influencer," Philip shares. "I started by giving myself a 10-day challenge to post something every day. Then I started curating my material more carefully and getting more feedback and now I have a clearer idea of what I want to get out of this."
Don't Forget Real Life
"There will probably be a new Instagram at some point. Something new will come along," says Rebecca. "That's why it's important to keep making and maintaining real relationships in real life. Who knows? Instagram could go away tomorrow!"

Show Versatility
"I was doing a celebrity with long hair and people thought that's all I did," says Philip. "But I love doing all types of hair. So I deliberately started showing different types of hair and those looks brought in new followers. The lesson is, show the work you want to do."
Keep Elevating
"Ten years ago, there were no influencers or content creators," Rebecca observes. "Today it's saturated with so much beautiful work and it's a struggle to figure out what's next. I think all you can do is keep elevating your work, be yourself and have fun. No one knows what's going to happen so ride the wave!"
See the full panel discussion here.
Part 1, Part 2, Part 3, Part 4