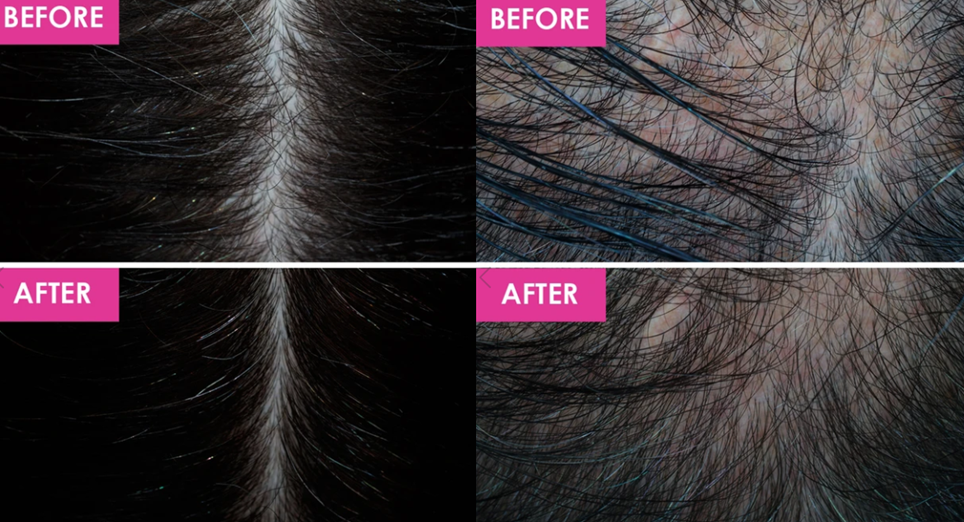 Source: Courtesy of Grande Cosmetics
Hair loss is a difficult subject, but through education and key products, steps can be taken to bring your client's hair back to its former fullness. Many are currently experiencing hair thinning or loss this year for the first time, but you can reassure your clients, that it's normal. With the onset of quarantine and the stress of the COVID-19 outbreak, there's been an increase in telogen effluvium—aka hair loss due to stress or trauma. And fortunately, Grande Cosmetics has a solution. GrandeHAIR, a revolutionary hair care system from the leaders in the lash industry, not only helps thinning hair, but makes it feel great and smell good, too.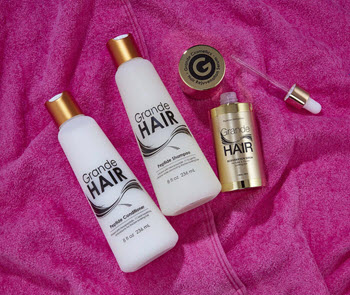 Source: Courtesy of Grande Cosmetics
Step 1
The first step, and arguably the most important for combatting hair loss is the daily use of the Enhancing Serum. GrandeHAIR Enhancing Serum is formulated with vitamins, peptides, and amino acids to support hair follicle health for the appearance of healthier, thicker looking hair. Like all of Grande Cosmetics products, this hair enhancing serum is filled with good-for-you ingredients such as tripeptide key ingredient complex, procapil, ginkgo biloba, and floral extracts. Instruct your client to apply the serum once a day to dry hair, along the scalp, to start seeing results within just 8 weeks—recommended at night time so it can get to work while your client is at rest. Full results will become visible within four months.
To get the most benefit out of the rejuvenating serum, use a scalp massager to stimulate circulation and massage in the nutrients. This will help coat the follicles and prevent fall out. In a consumer perception survey with 39 participants, both male and female, 97 percent saw less hair thinning and improved hair thickness.
Step 2
Your client can turn their typically mundane at-home cleanse into a spa-like experience with the GrandeHAIR Peptide Shampoo. This exfoliating shampoo is infused with hexapeptide-11 and naturally exfoliates the scalp to cleanse hair follicles of debris and oils—like all that dry shampoo that's been building up from "quarantine hair, don't care" days. Educate your clients on how this dry shampoo build up on the scalp can contribute to hair loss and thinning, and which shampoo they use is a critical step to counteracting hair loss. By deeply cleansing the follicles, the daily applied serum will be able to soak in better, helping to expedite and enhance its effects.
Step 3
The silky smooth step in the hair care routine: conditioner. After thoroughly rinsing GrandeHAIR Peptide Shampoo from the scalp, it's time to apply the third and final step for achieving luscious locks. GrandeHAIR Peptide Conditioner is also formulated with the wonder ingredient, Hexapeptide-11 plus a nourishing cocktail of professional grade extracts and antioxidants. It deeply conditions and protects existing hair for a fuller appearance. Its lightweight formula keeps hair weightless and full of bounce.