It may come as a surprise that roughly 65 percent of clients have curly, coily or wavy hair. It's even more surprising that many of these clients don't know their type of texture pattern, therefore, they don't know how to properly care for their hair.
"Nowadays almost every client has some sort of curl or texture pattern to their hair," says Redken ambassador Sean Goddard. "Very frequently, lots of clients have curls and don't even realize it nor understand how to care for them." Texture, density and curl pattern all play a crucial role in deciding what products are best for a particular hair type, and curl products are not one-size-fits-all. That's where Redken's All Soft Mega Curl regimen comes in.
Redken's All Soft Mega collection provides your client with the correct formula for textured hair. This range has a unique blend of natural ingredients, like Aloe Vera to deeply hydrate and soothe the scalp, Inca Inchi Oil to repair and nourish dry, brittle hair, and Cactus Flower Extract to add shine and bounce while protecting your locks from environmental stressors. Together, these ingredients work in harmony to give your client's curls the definition and bounce they crave, while keeping frizz at bay. This collection also is suitable for color-treated curls and coils and offers a boost of hydration for all curly and coily clients.
"All Soft Mega Curls is an essential franchise within the Redken portfolio," says Kelly Scott, Redken Education Director. "It strives to provide high-tech and thoughtfully crafted haircare offerings to curly and coily consumers, a demographic that is often overlooked in mainstream haircare. It's important for us to cater to all textures adequately," she adds.
HOW THE 3-STEP PROCESS WORKS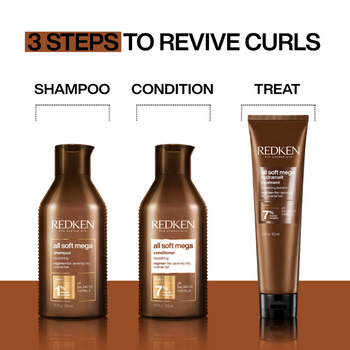 Step 1: All Soft Mega Curls Shampoo
The silicone and sulfate-free All Soft Mega Curls Shampoo is formulated to provide your client's curly or coily hair with the hydration and nourishment it needs. It's infused with Redken's Nourish Complex (two percent) and Aloe Vera, which works to strengthen and lock in moisture, as well as smoothness all day long. As Redken artist, Jackie Litscher explains, sulfate-free products like ours help seal the cuticle, which reduces frizz and promotes healthier hair.
Apply to wet hair
Massage into a lather and rinse
Follow with All Soft Mega Curls Conditioner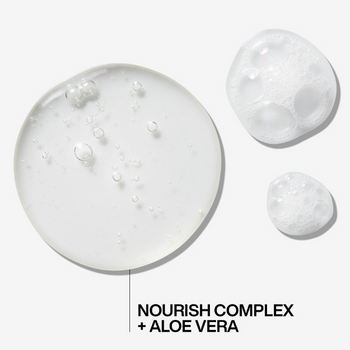 Step 2: All Soft Mega Curls Conditioner
The All Soft Mega Curls Conditioner is formulated with seven percent of Redken's Nourish Complex to detangle, replenish, and nourish severely dry curls and coils to look, as well as feel softer and shinier.
After shampooing, apply and distribute through hair and rinse.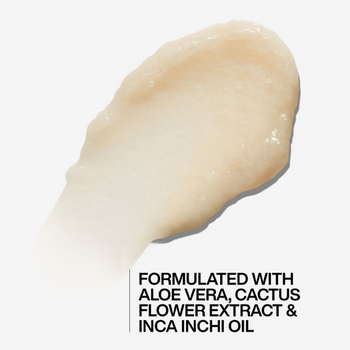 Step 3: All Soft Mega Curls Hydramelt
The All Soft Mega Curls Hydramelt treatment is formulated with seven percent of Redken's Nourish Complex to enhance natural curl patterns for increased definition and bounce. Stylists can reapply this treatment to reactivate immediate curl definition.
After conditioning, apply to clean, towel-dried hair. Leave in. Style as usual.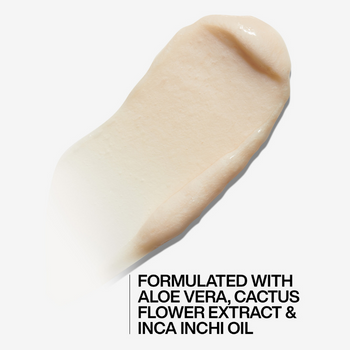 For more on the All Soft Mega Curls regimen, click here.