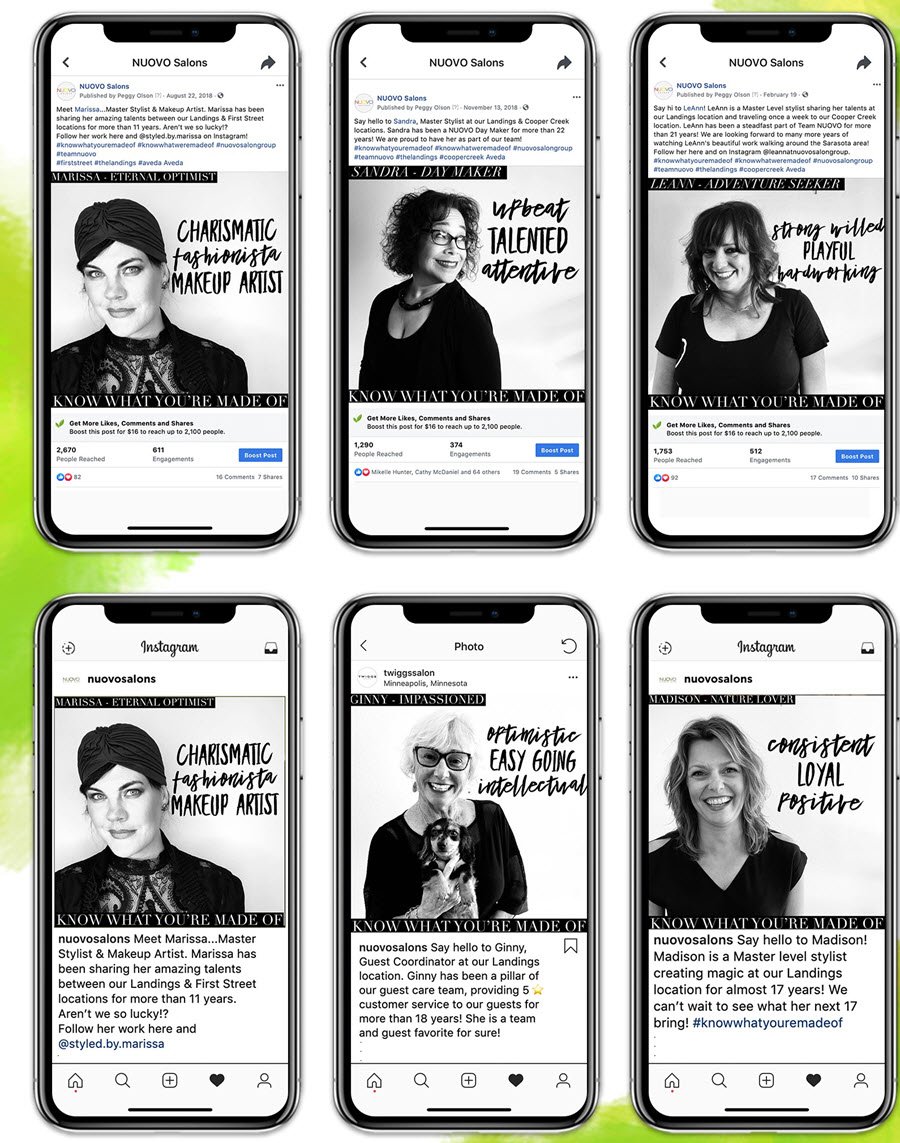 Photography: Courtesy of Salon Nuovo
Salon Nuovo's "get to know us" digital campaign introduces stylists to existing and potential clients and brings in new clients and referrals.

Looking for a few new clients? Wondering about the best way to build the book of a new stylist? Want to celebrate the guests you already have and win referrals from their friends? Here's how three salons created innovative, inexpensive and highly effective digital strategies to achieve their goals.

HOT FOR TEACHER'S HAIR
At Tyler Mason Salon Spa in Indianapolis, attracting new clients is an ongoing goal, and the most challenging schedules to fill are those of new stylists. "We had a new stylist who was in her last phase of her salon apprenticeship," says owner Tammie Baker, "and we needed her to start seeing as many guests as possible in order to fine tune her timing, formulations and confidence." So Tammie and her social media sat down for a brainstorming session. They recalled a promotion they had done earlier offering free services to those affected by the government shutdown and directing those individuals to new stylists, and they decided to do something similar. Their idea? Free services for the entire month of March for area teachers. "Supporting the community that has supported us for the last 27 years has always been a cornerstone of our business," says Tammie, "so we chose a group that has been loyal to us and doesn't always get the attention they deserve for their hard work to improve our community." A single Instagram post offering free services with Tyler Mason's newest stylist was all it took to fill not only March, but April as well. "We had to extend it," confirms Tammie. The post reached 12,760 with 1,877 engagement, received 55 comments and was shared 94 times. By comparison, the average Tyler Mason post reaches 700-800 and with total engagement of about 50. "Not only did the campaign meet our expectations, it also met our marketing intentions," says Tammie. "We were able to show our appreciation for a group of deserving individuals and we were able to fill our new stylist's appointment times, which elevated her to a Level 1 stylist quickly. She rebooked many of her first timers and was able to earn a commission with her very first paycheck. Needless to say, we'll be continuing this marketing tactic with future service providers!"

CLIENTS STRIKE A POSE
At RedBloom Salon in Calgary, Ontario, an ongoing campaign--#RedBloomInRealLife—invites guests to post photos of their hair with the #RedBloomInRealLife hashtag, which the salon often reposts. "We think our guests are amazing," says co-owner Jodi Ohama, "so we wanted to do even more to celebrate them while also building a stronger connection to our brand and reaching our clients' friends and family members who could be potential clients." So the team expanded the campaign to #RedBloomIRLGuestFeatures, posting photos and Q&As on select guests on their social media feed, stories and blog. To kick off the campaign, the team organized a photo shoot for seven guests, each chosen by one of the seven participating stylists. "We did the hair and makeup," says Jodi. "Each got an hour photo session and filled out the questionnaire. They got to keep their pictures from the shoot, and we created content for our marketing and social media." The shoot cost was reasonable—about $600—but the ability to make the group of clients feel special was priceless. "We posted one feature a week," says Jodi, "and our Instagram reach was around 8,524 with more than 600 engagement. The Facebook reach was 4,570 with 661 engagement. Buoyed by the success of #RedBloomIRLGuestFeatures, the salon continues to spotlight inspiring guests, posting their stories about eight times a year. "It's not only a great way to highlight our guests," says Jodi, "it's also a way to highlight people doing important things in our community."

GET TO KNOW OUR TEAM
Nuovo Salon Group owners Terry McKee and James Amato know the importance of making personal connections with guests. "When a client gets to know the personality behind the talent, they are more likely to develop a stronger connection with their stylist," they explain. "This results in repeat visits and a higher degree of trust when the stylist recommends products or services." To create those strong connections, the Sarasota, FL-based group created the "Know What You're Made Of" campaign to celebrate the Nuovo team and introduce them to current and potential guests. "We had every member of our team professionally photographed," explains Terry, "and asked them to choose unique words or phrases to describe themselves. With that material, we created Facebook and Instagram posts that are personal, informative and designed to convey each stylist's character. The posts have fostered connection, with guests commenting on, liking and sharing their favorite stylist's post on social media. It has also been a great way to gain referrals in an organic, positive way." The campaign launched in August 2018 on Facebook and Instagram and has been going strong since, with an average of one post per week on both platforms. Every new stylist earning a spot on the floor automatically gets a post. Even though the posts are not boosted, Terry and James report that most months, organic reach and engagement exceeds that of boosted posts.