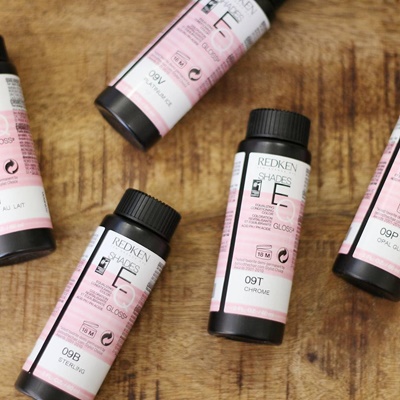 When working behind the chair, you are bound to encounter a haircolor dilemma or two, and this time Redken is here to tackle your silver struggles! Read on to discover tips from Redken Artist Chrystal Lotz on what to do when you're in the middle of a silver slip-up.
SILVER SLIP-UP #1: HAIR TURNS GREEN OR BLUE
What happened?
Undertone is to blame. Think about it. If glazing over any remaining warmth (orange–yellow) the results are more than likely going to pull more blue or green.
What to do:
For true silver tones, it's best to always lift hair to Level 10 pale yellow and pre-tone to neutralize any remaining warmth. Pre-toning with 09V Platinum Ice Shades EQ Gloss should do the trick. If hair is darker (i.e. level 8) then you may need to tone it a couple of times (2 levels down at a time) with different formulas to completely neutralize any undertone.
SILVER SLIP-UP #2: HAIR SNAPS OFF WHEN PRE-LIGHTENING
What happened?
Previously colored and/or dark hair may need multiple lightening processes to achieve a true silver—which can compromise the hair's health and result in breakage.
What to do:
During the consultation, determine if the client's hair is strong enough and manage their expectations. The result they want may not be achievable in one visit. You may need to space out your lightening
services and treat hair in between with Extreme CAT or Redken Chemistry treatments to ensure that the hair is healthy.
SILVER SLIP-UP#3: YELLOW TONES ON A CLIENT WHO IS 75-100% GRAY
What happened?
Hair turns yellow for many reasons ... well water, smoking, product buildup, heat styling, to name a few. Figuring out what is causing the issue will help lead to solutions.
What to do:
Perform an in-salon Pre-Art Treatment to remove minerals and product buildup that can interfere with the desired color result. Regular appointments for toning and regular use of Redken's New color-depositing Color Extend Blondage Shampoo and Conditioner can help too.
Photography: Courtesy of Redken
up next
A Technical Guide To Redken Color Gels Oils
A Technical Guide To Redken Color Gels Oils
Written by 
Redken Team
Sep 21, 2023
Read time 5 min