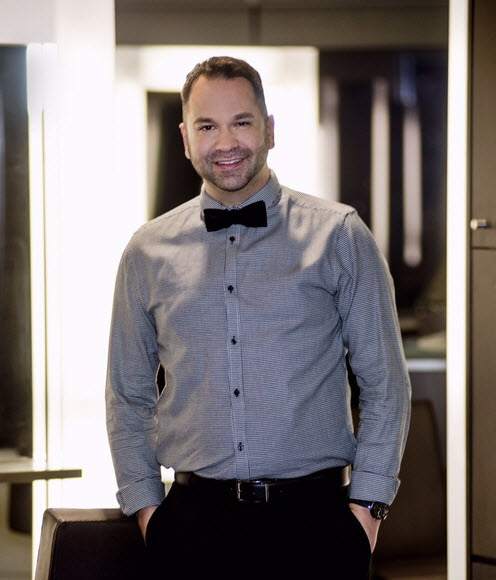 Meet the salon owner, L'Oréal Professionnel educator and SalonCentric Ambassador who discovered his passion for hair while working in a funeral home.

As a funeral director and embalmer, Daniel Mason-Jones knew how to make a body look glamorous. He also knew how to care for the living—grieving family members, staff—with kindness and empathy, and how to run a service business. All of these are important qualities for a successful hairstylist, and after embracing his true calling as a hairdresser, it's why Mason-Jones has been able to conquer one milestone after another.

He and his husband Jody are co-owners of the bustling Muse Salon and Spa in Johns Creek, GA. They oversee a staff of 48 at the 6,000-square foot salon where Mason-Jones is legendary for his ability to knock out an average of 20 clients a day―his record was 42, but it nearly killed him. Each weekend he's on the road teaching hair color for L'Oréal Professionnel or representing SalonCentric. "I work 100 to 125 hours a week," he admits. "But this is how I feed my family, so I am truly grateful."

What do you think is your most valuable business strategy as a salon owner?
We constantly educate our team. I want every member of my staff to be able to handle any guest and any situation. Plus, our staff is business-smart. They know their numbers. We set up these expectations and standards from the start. And while our salon isn't for everyone, it is the place for true professionals.

Please share a recent management strategy that has been successful.
We're creating flex schedules. We understand our Millennials. They value work-life balance. So, many staff members work six-hour days, four days a week. We just hired a stylist with kids, so she works from 8 a.m. until 2 p.m. when her kids are in school. Obviously, the majority of her clients are non-working women. It's a new model, and we actually have quite a few six-figure earners in the company. We want everyone in our company to rise to their best, to be their best selves. We achieve that with open communication and sharing ideas. We're always open to hearing from our team.

What is one thing a salon stylist can do to give himself or herself a raise?
Don't be afraid to offer to upgrade your clients with services like color glosses or conditioning treatments. Recommend things that will benefit your guest. Waiters offer wine menus and dessert because they know a bigger bill will bring bigger tips. Nobody gets mad at them.

How can stylists can make the most of their education time and money?
Know exactly what you need to strengthen and focus on that. I struggled with cutting for a long time when I started doing hair—I was a much better colorist. So I dug into hard core cutting classes and now I'm a good haircutter.

What is your #1 social media practice?
Know your audience and who you're trying to attract to your business. For example, I am a creative artist and I don't want to be put into a box. So, I showcase a lot of diversity on my Instagram page. I want people to see I can do many types of hair.

Who are your manufacturing partners and why do you value them?
L'Oréal Professionnel is our partner. They give us so much support, so much education. We retail Kerastase and Shu Uemura. We also carry Baxter of California. It's a brilliant men's line. We have a huge influx of males coming into the salon, so we place the products in the lobby to make the guys feel comfortable. They're some of our largest retail clients. All you have to do is suggest a product, explain what it does, and a guy will go for it.

What is the best thing about being a SalonCentric Ambassador?
It's the coolest thing ever! I can sit down with a salon owner and talk e-commerce and distribution and bring the salon owner perspective to our manufacturer partners. And I can also talk to a stylist about building their business. It's so gratifying.

Share a memorable moment that you've experienced as an educator.
The best is when I teach a technique and later I'll get messages from stylists whose lives have been changed. The average hairdresser makes $18,000 a year. I love when a student tells me they made $100,000 in a year, or that they were able to leave an abusive relationship, or their child got braces, all because of what they learned in my class.

How do you give back and why is it important?
At the beginning of every class, I ask for a pledge. I tell my students I will teach them to make a lot of money, but they must promise to give 10% of whatever they earn to charity. When they do it and tell me where their donations go, I feel like I'm making a difference. At home, we're very involved in CURE in Atlanta. It's an organization that does research for childhood cancers. And we do tons of other things. We never say no to any charity. We want our community to know they can rely on us.

Who are your go-to influencers and why?
I'm one of 20 SalonCentric Ambassadors. We all brainstorm and share best practices. And I've been working with so many talented L'Oréal Professionnel educators for years. I look to people who understand we're all on this journey together for inspiration.

What's the best piece of professional advice you've ever received?
In beauty school, I was told it always comes back to education. That always stuck with me. I think you should pay yourself back 10% of your income in education. I'm going to Copenhagen for a class this year, and I've studied in Ireland and Spain. Learning how hair is approached in different cultures has made me a better artist overall.